by e-mail:

harry@hadh.co.uk (preferred)

by phone:

07760 467792 (UK mobile)
About Harry Douglas-Hamilton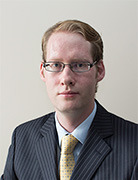 Harry has over 17 years' experience working in the antiques industry for dealers and auction houses in Edinburgh and London. He has a particular interest in Asian art.
Harry's experience is complemented by:
a Postgraduate Diploma in Asian Art at the School of Oriental and African Studies (SOAS), University of London, and
an MA Hons. from the University of St. Andrews in Art History and Social Anthropology.